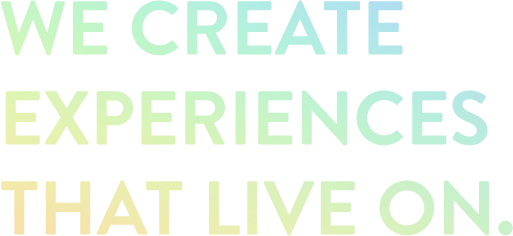 Creation. Production. Connection.
We connect audiences to brand stories by producing powerful content and immersive experiences that have lasting impact long after the event, the campaign or the season is over.
Our Approach
We measure client relationships in decades, not projects.
VISION is more than just our name. It is the lifeblood of possibility and the fuel that drives us. Big picture thinking makes each new project an opportunity to challenge the status quo, break a barrier and propel the brands we work with to center focus. We take our work and our responsibility seriously. We don't just deliver on our word. We exceed the vision. Every. Single. Time.
Our Capabilities
Technology has limits. VISION doesn't.
We want people to feel the pulse of your brand, so we create experiences that resonate with your audiences—emotional connections that drive people to act. We meet them where they are with radical empathy. We offer them a different perspective. That sets us apart. To be able to capture a person's attention and hold it is a rare thing—and to influence them, to challenge them to accept new ideas or join a movement is extraordinary. We are always thinking forward and testing the boundaries of what is possible.
Creative Content
Seamless Production
From expansive experiences to seasonal campaigns and standalone events, we can produce any size event and create content for any size screen. We make experiences live ON.

Live Events

Virtual Reality

Interactive Touch

Projection Mapping

Experiential Tech

We believe that sharing the right story through innovative presentation technology and engaging experiences helps build a connection between a user, a brand and the world.

3D

Motion Graphics

Live Action

Editorial

Sound Design
Our Team
Wild Imagination. Thoughtful Strategy. Down to Earth.
We are people who believe that good enough isn't enough. We're trusted with high-profile, high-pressure work—and we trust each other to make it happen. We trust each other to deliver under a trillion different circumstances, under pressing deadlines and in an ever-changing landscape of technology, trends and business goals. And we do whatever it takes to exceed even our own high expectations. Together, we're creating experiences that live ON.
Tracey Shappro

President and CEO

A champion of VISIONary thinking, Tracey pushes the boundaries of what is possible to connect brands with their target audiences. She is a trusted strategic production partner that works with organizations to create marketing and experiential solutions that maximize audience engagement and impact.

Tracey is a two-time Emmy-Award winner by the National Academy of Arts and Sciences.  She has been honored twice as "One of the Top 100 Producers in America" by AV Producer Magazine. She has earned more than 179 awards from the American Marketing Association, the Association of National Advertisers and the American Advertising Federation. For 15 years, she served as the Official Production Partner for the Greater Houston Partnership. She also served on the Houston Super Bowl Host Committee both in 2004 and 2017.  Tracey is a member of the Executive Women's Partnership, a Goldman Sachs 10,000 Small Businesses selected CEO and served for eight years as Marketing Chair on Holocaust Museum Houston's Board of Trustees. Her company VISION Production Group was honored as "One of the Top 10 Places to Work" in Houston by the Houston Business Journal.  Tracey herself was also honored by the Houston Business Journal as one of the "Top 100 Women in Houston Who Mean Business."

Dan Pratt

VP Creative

Dan's design expertise, creative direction and eye for detail brings each VISION project to the intersection of wildly inventive and technically advanced – all produced in a manner of impeccable efficiency and fun. His work awakens something in people. It begins with a visual connection and that connection makes them act. It goes beyond the moment they see the work – it lives ON—in people, in organizations, in communities.

Terry Vantine

Senior Producer

A client-communication wunderkind, Terry is a natural-born producer and a champion of radical empathy. A multi-tasking hero with a style all her own, she's the one to call for any project—large, small, complex or seemingly impossible.

Ruth Villatoro

Senior Producer

Ruth is a choreographer of the complex, strategizer of the unwieldy and manager of operations. A seasoned producer and multi-tasking champion, she magically transforms even the most challenging project into an experience where everyone walks away smiling.

Michelle Pardo

Marketing Manager

Maestro and voice of VISION's brand, Michelle is a marketing maven—orchestrating content that mixes results and creativity harmoniously. She uses her gift of strategy and passion of digital marketing to champion VISION to the world.

Eric Stone

Associate Creative Director

With a proven eye for design, motion graphics and 3D animation, Eric is dedicated to helping oversee the production of creative projects at VISION. A wizard with a wide range of digital experience, Eric uses his impeccable creative vision to ensure every project is delivered sharp, stylish and storied.

James Templeton

Motion Graphics Artist / Editor

An artist in every sense of the word, James utilizes his multi-faceted skill set to compose powerful experiences that resonate with audiences of all walks of life. James brings his incredible talent in motion graphics, editing, and video production to deliver experiences that blow people away.

Weston Woodfin

Motion Graphics Artist / Editor

Utilizing out-of-the-box thinking and stellar design skills, Weston excels in creating thoughtful concepts that pull viewers in—provoking a connection with the message and design on a deeper level. Weston's can-do spirit and creative know-how make for truly inspiring content that makes lasting impressions on our clients' audiences.

Ivy

Chief Cuteness Officer

Ivy uses her natural gifts—a mix of cuddle strategy, under desk snoozing and her seasoned experience in adorableness—to win the hearts and minds of co-workers, clients and friends.
Tracey Shappro

Bio

Dan Pratt

Bio

Terry Vantine

Bio

Ruth Villatoro

Bio

Michelle Pardo

Bio

Eric Stone

Bio

James Templeton

Bio

Weston Woodfin

Bio

Ivy

Bio